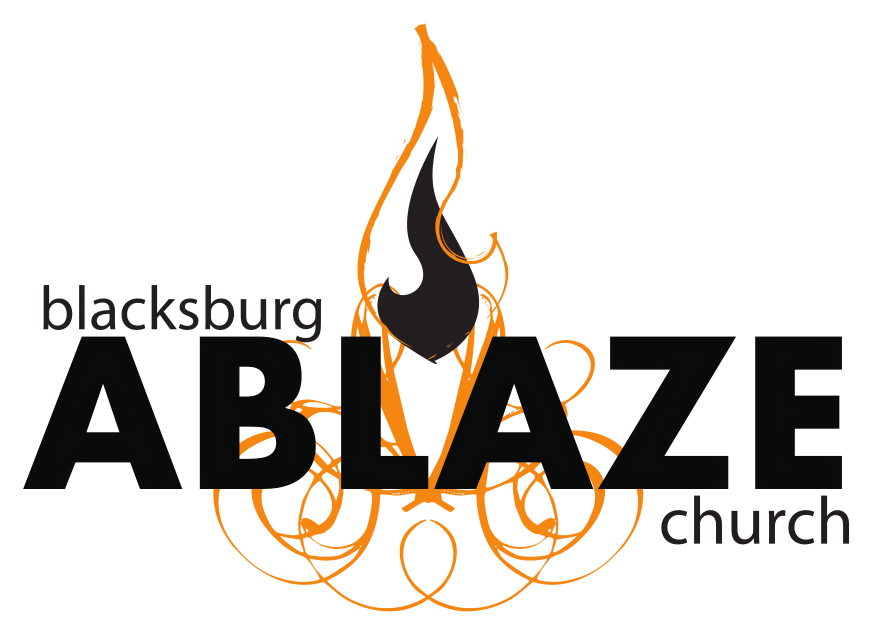 At Blacksburg Ablaze, we believe that worship is about more than just music. Worship is a recognition of God and what He has done in our lives. Worship is not always happy, nor is it always serious. However, worship is always personal. Worship is about a connection to God and an expression to Him of how you are feeling. Worship can be done through music, through conversation, or through mundane activities. The beautiful thing about corporate worship is that we all get to worship God together as one body and one voice.
The role of the Worship Team: The Worship Team's job is to create an environment in which people feel comfortable worshiping. Their job is to remind the congregation what God has done for them. Their job is to encourage an atmosphere of genuine expression to God. All of this is done through music, Scripture reading, and prayer.
The role of the congregation: The congregation's role is simple: EXPRESS YOURSELF! Share with God how you are feeling. Worship is a personal experience that we get to share with one another in a church setting. Maybe you feel like raising your hands, maybe you feel like falling to your knees, maybe you feel like silently praying the words of the song being played. All of these are completely acceptable forms of worship. As long as your worship does not hinder another person's ability to worship, feel free to express yourself to God in whatever way suits you best. The ability to worship together in unity is part of what makes the church worship setting so powerful and unique.
Songs We Play
Like what you heard on Sunday? Below are the songs that we play here at Backsburg Ablaze. If you have any questions or a suggestion for a song you might like to hear please contact us. We want to hear feedback from you!
---
10,000 Reasons
by
Matt Redman
All The Poor and Powerless
by
All Sons and Daughters
Another in the Fire
by
Hillsong United
Battle Belongs
by
Phil Wickham
Beautiful
by
Phil Wickham
Beautiful Again
by
Kimball and Christine
The Beautiful One
by
Steele Croswhite
Before the Throne of God Above
by
Shane & Shane
Boldly I Approach
by
Rend Collective
Broken Vessels
by
Hillsong
Burn For You
by
Steele Croswhite
Build Your Kingdom Here
by
Rend Collective
Came To My Rescue
by
Hillsong
Cannons
by
Phil Wickham
Christ Is Risen
by
Phil Wickham
Come As You Are
by
Crowder
Come Thou Fount
by
Hymn
Days of Elijah
by
Paul Wilbur
Death Couldn't Hold You Down
by
Everyone's A Poet
Forever Reign
by
Hillsong
Good Good Father
by
Chris Tomlin
Gratitude
by
Brandon Lake
Great Are You Lord
by
All Sons and Daughters
Great I Am
by
New Life Worship
The Heart of Worship
by
Matt Redman
Here I Am to Worship
by
Tim Hughes
Hosanna
by
Hillsong
How Deep the Father's Love for Us
How Great Is Our God
by
Chris Tomlin
How He Loves
by
David Crowder Band
It Is Well
by
Bethel Music
King of My Heart
by
Bethel Music
Lead Me to the Cross
by
Hillsong
Living Hope
by
Phil Wickham
My Lighthouse
by
Rend Collective
No Longer Slaves
by
Bethel Music
O Come To The Altar
by
Elevation Worship
Oceans
by
Hillsong United
Reckless Love
by
Cory Asbury
Resurrection Day
by
Rend Collective
Revelation Song
by
Phillips Craig and Dean
Rising Sun
by
All Sons and Daughters
The Stand
by
Hillsong
The Victory
by
Phil Wickham
With My Soul
by
Hymn
Who You Say I Am
by
Hillsong Worship
Worship In the Darkness
by
Nick Pierson
You Are God Alone
by
Phillips Craig and Dean
You Are My Vision
by
Rend Collective
You Wont Relent
by
Jesus Culture
Your Glory
by
All Sons and Daughters
Your Great Name
by
Natalie Grant